After Boris Johnson's announcement that commercial galleries can reopen from April 12th and museums from May 17th, it's time to start planning which exhibitions to visit after such a long wait!
Here are my first 10 exhibitions highlights – check at the bottom of this article for Part 2!
Lynette Yiadom-Boakye: Fly in the League with the Night
2 December 2020 – 31 May 2021 @ Tate Britain
For me, this is THE exhibition of the year and I cannot believe that only a small number of lucky visitors were/will be able to see it. Open to the public for only a few days due to the various lockdowns, Lynette Yiadom-Boakye's portraits of fictitious people have reached many of us through social media and online browsing. The contemporary British artist and writer depicts figures that are products of her imagination and found images; the protagonists of the 80 works brought together for this first major survey, in fact, seem to exist outside a specific time or place, appearing at the same time familiar and mysterious.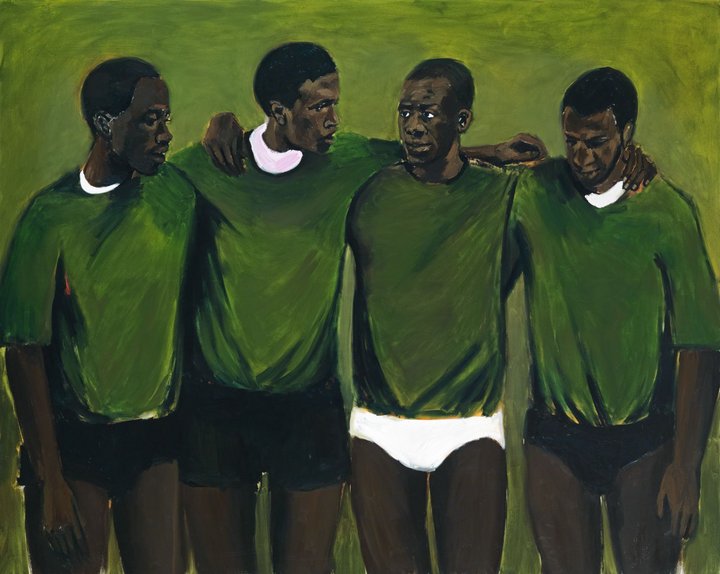 Lynette Yiadom-Boakye, Complication, 2013. Pinault Collection © Lynette Yiadom-Boakye
Tracey Emin / Edvard Munch: The Loneliness of the Soul
18 May – 1 August 2021 @ Royal Academy of Arts
The works of a major contemporary British artist and Norwegian Expressionist painter are brought together in this joint exhibition where love, sexuality, loss, grief, longing, and solitude are its central themes. More than 25 works by Emin consisting of recent paintings, sculptures, and neons are placed alongside 18 oils and watercolours by Munch, showing how much the latter influenced her.
If you want some spoilers, you can read my review and/or watch the RA's free 20-minute virtual tour. Otherwise, book your tickets and enjoy!
Jean Dubuffet: Brutal Beauty
17 May – 22 August 2021 @ Barbican Art Gallery
With a subtitle that can also be perfectly applied to its hosting building's architecture, Jean Dubuffet's new show at the Barbican Centre is the first major survey of his work in the UK for over 50 years. A key figure in postwar modern art, the French artist attempted to capture the poetry of everyday life in a gritty and authentic way, as you'll be able to see through his paintings and sculptures.
Jennifer Packer: The Eye Is Not Satisfied With Seeing
19 May – 22 August 2021 @ Serpentine Gallery
"When I walk through museum collections, I see all the things that aren't there. If I walk through the American wing, what I see is a dearth of black women; and I think that that kind of erasure is one that I'm interested in contradicting."
This is Jennifer Packer's first exhibition in a European institution. The American artist will present  34 paintings and drawings from the 2010s to 2020. By combining observation and memory, Packer has a completely political inclination to paint, as can be seen in the portraits of friends and artists from her New York circle, intimate interiors, and flower still lifes represented as funerary bouquets.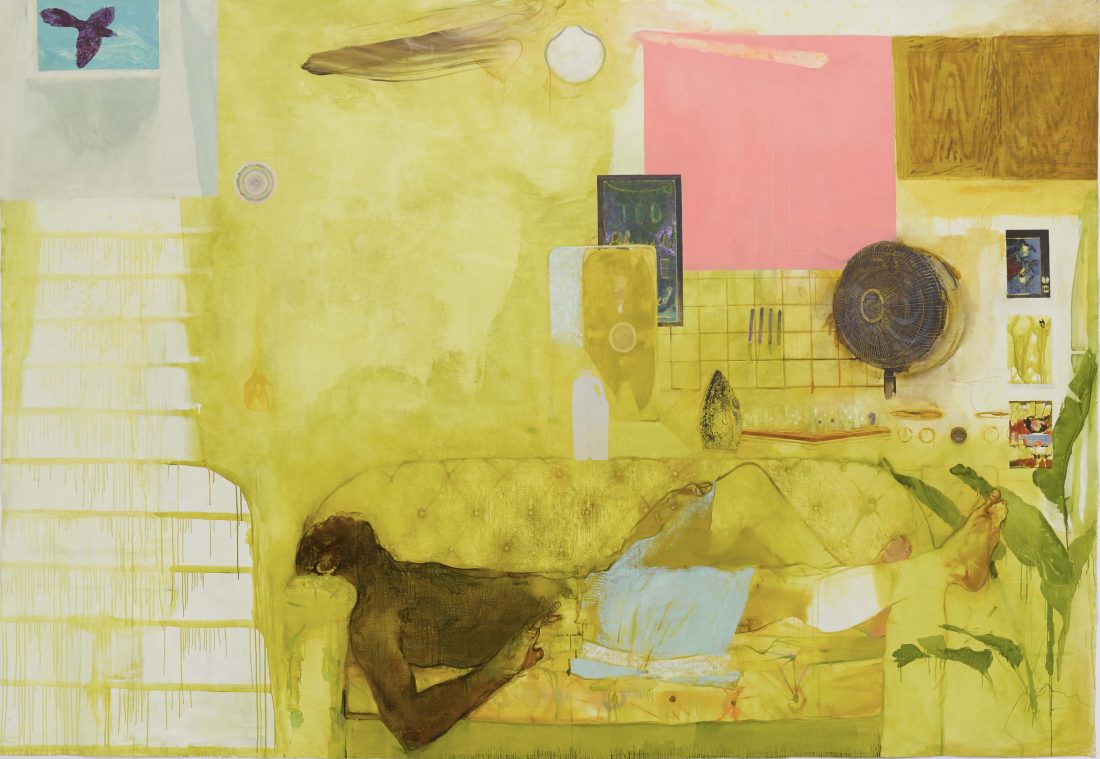 Jennifer Packer, Blessed Are Those Who Mourn (Breonna! Breonna!), 2020.
Oil on canvas 300 x 438 cm 118 x 172.5 inches. Private Collection.
Courtesy the Artist, Corvi-Mora, London and Sikkema Jenkins & Co, New York. Photo: George Darrell
Alice: Curiouser and Curiouser
27 March – 31 December 2021 @ V&A
Be ready to fall down the rabbit hole at the Victoria & Albert Museum's hotly anticipated exhibition about Alice's Adventures in Wonderland! This will be an immersive and theatrical show highlighting the story's origins, adaptations, and reinventions since the English writer Lewis Carroll wrote the homonymous novel in 1865.
Eileen Agar: Angel of Anarchy
19 May – 29 August 2021 @ Whitechapel Gallery
Although I'm not familiar with Eileen Agar's work, I'm very intrigued to see her upcoming retrospective in East London, spanning a career from the 1920s to the 1990s. Agar was a British painter associated with Surrealism and whose style transformed the everyday into the extraordinary, combining order with chaos and merging abstraction with classical art images, nature, and sex.
Matthew Barney: Redoubt
19 May – 25 July 2021 @ Hayward Gallery
The first solo museum exhibition of American contemporary artist and film director Matthew Barney in the UK in over a decade will feature etchings, large-scale sculptures, and a new feature-length film exploring the relationship between humans and the natural world. Shot in the Sawtooth Range, Idaho, the film's characters are a sharp-shooter, wolves, two dancers, an artist in the employ of the US Forest Service (played by Barney), and an indigenous contemporary choreographer. Their movements bring together the story of Diana and Actaeon, cosmology, and modern American political narratives.
If you're not familiar with Barney's work and have some of hours to kill during this lockdown, I would recommend watching his epic Cremaster Cycle, a series of five feature-length films created in a period of eight years.
David Hockney: The Arrival of Spring, Normandy, 2020
23 May – 26 September 2021 @ Royal Academy of Arts
David Hockney is one of the most important British artists of the 20th century. Throughout his seven-decade career, he has worked in many media such as painting, drawing, photography, watercolours, printmaking and more. This exhibition will specifically focus on 116 works created on his iPad during the spring of 2020 at his home in Normandy. Printed onto paper in a size larger than the screen in which each work was drawn and painted, the pictures will show the unfolding of spring from beginning to end, acting as a reminder that despite a year of lockdown, the natural world can still bring us joy and beauty.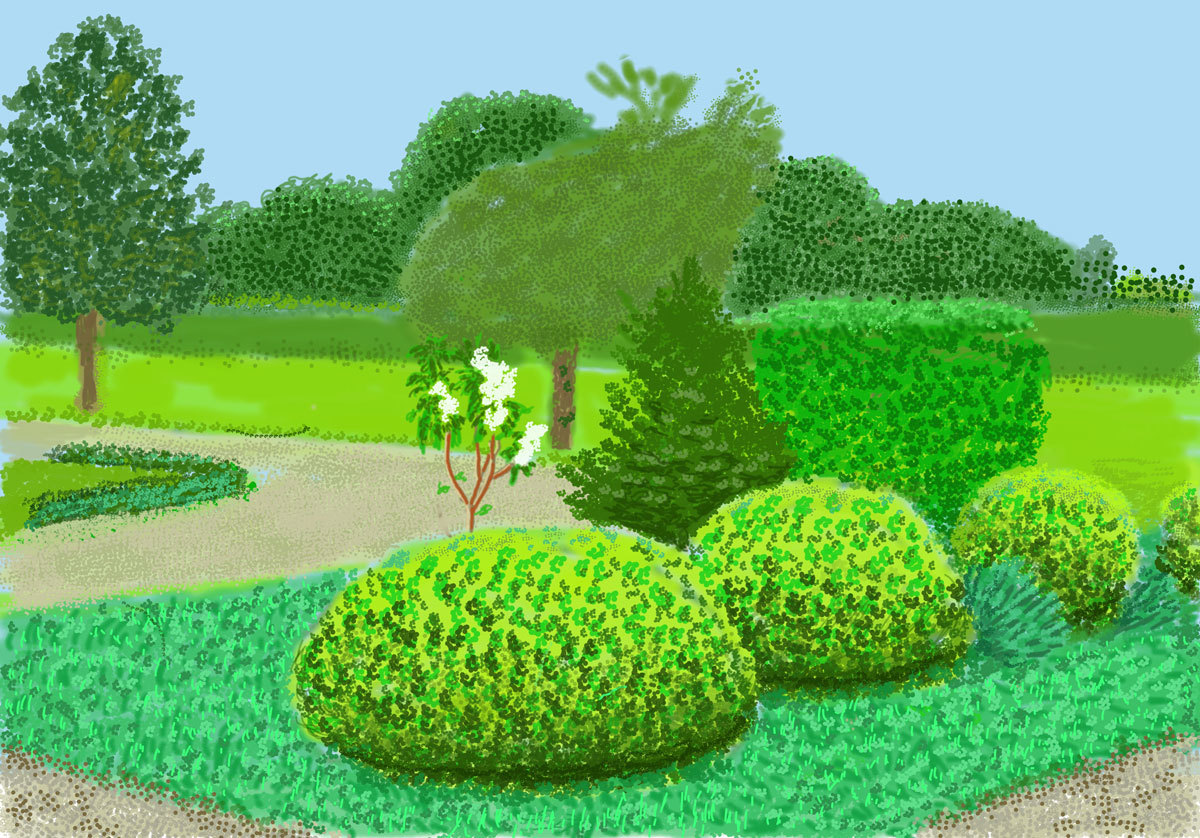 David Hockney, No. 259, 24th April 2020. iPad painting. © David Hockney
London Design Biennale
1 – 27 June 2021 @ Somerset House
The Design Biennale's third edition will take place at the beginning of summer. Countries, cities and territories worldwide will respond through installations to the theme of Resonance, chosen by Artistic Director Es Devlin. As part of her contribution to this year's theme, the multi-award-winning artist and designer will fill Somerset House courtyard with 400 trees of 23 different varieties that are native to the UK and northern Europe, an installation titled Forest for Change.
Fantastic Beasts™: The Wonder of Nature
9 December 2020 – August 2021 @ Natural History Museum
If you are a Harry Potter fan as much as I am, you don't want to miss this *fantastic* exhibition about the animals and creatures of JK Rowling's wizarding world. Have a closer look at sea serpents, Nifflers, Erumpents, Demiguises, and Zouyus. While you wait for bookings to reopen, you can virtually explore the show and deepen your knowledge of these magical beasts with Google Arts & Culture.