For the past year, museums and galleries in London have suffered to keep their permanent collections and temporary exhibitions open to the public due to the continuous movement from one lockdown to the other. One British artist, in particular, had secured a double show in the Mayfair district of the UK capital: Tracey Emin. The free-entry, small-scale Tracey Emin: Living Under the Hunters Moon opened in November 2020 at White Cube Mason's Yard to coincide with the ticketed large-scale Tracey Emin/Edvard Munch: The Loneliness of the Soul in the nearby Royal Academy of Arts. In this joint exhibition, love, sexuality, loss, grief, longing, and solitude are the central themes running through the works of this major contemporary artist and her hero's, the Norwegian Expressionist painter Edvard Munch.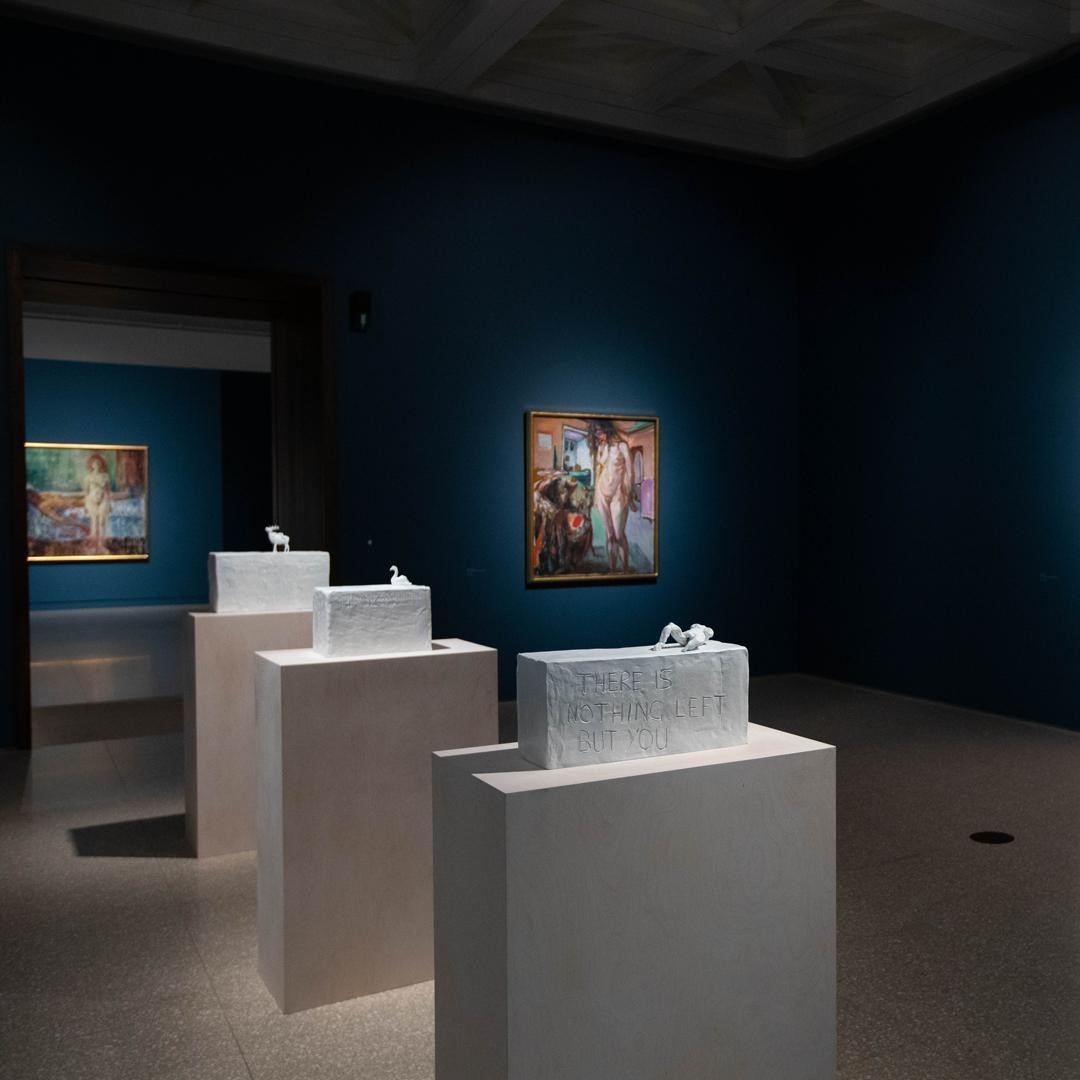 Gallery view of Tracey Emin/Edvard Munch: The Loneliness of the Soul, at the Royal Academy of Arts, London © Tracey Emin. All rights reserved, DACS 2020. Photo: © David Parry
The show was due to end on February 28th but after the UK Prime Minister's announcement that museums will be able to reopen from May 17th, the RA revealed that it would extend the exhibition until August 1st. Luckily, the institution also released a free 20-minute virtual tour on its website as a digital alternative to explore the exhibition during the latest lockdown and as a resource available after its closure. There, you can see more than 25 works by Emin consisting of recent paintings, sculptures, and neons placed alongside 18 oils and watercolours by Munch, showing how much the latter influenced her.
Emin feels related to Munch both on an artistic and personal level because, despite being born 100 years apart, their lives are quite similar: they lost someone, dealt with health issues, never had children, and were confined in a creative but lonely inner place. Each of these episodes triggered an array of emotions that needed to be expressed and are manifested through the figures in their works, who appear isolated and in pain.
In Emin's large canvases, these figures are mainly naked women painted in vigorous brushstrokes of black, red, blue, pink, or orange. Their outlines are blurred and their faces are featureless, as can be seen in You Kept it Coming (2019). Here, a female body is crawling through blood, trying to survive; you witness her suffering but are unable to help her. Even though it's a situation of sexual vulnerability, the figure is resilient and doesn't want to give up, just like all the others in the adjacent walls. Munch's women and men also transmit a sense of isolation and a level of pain, loneliness often experienced in the presence of someone else, like Consolation (1907) demonstrates.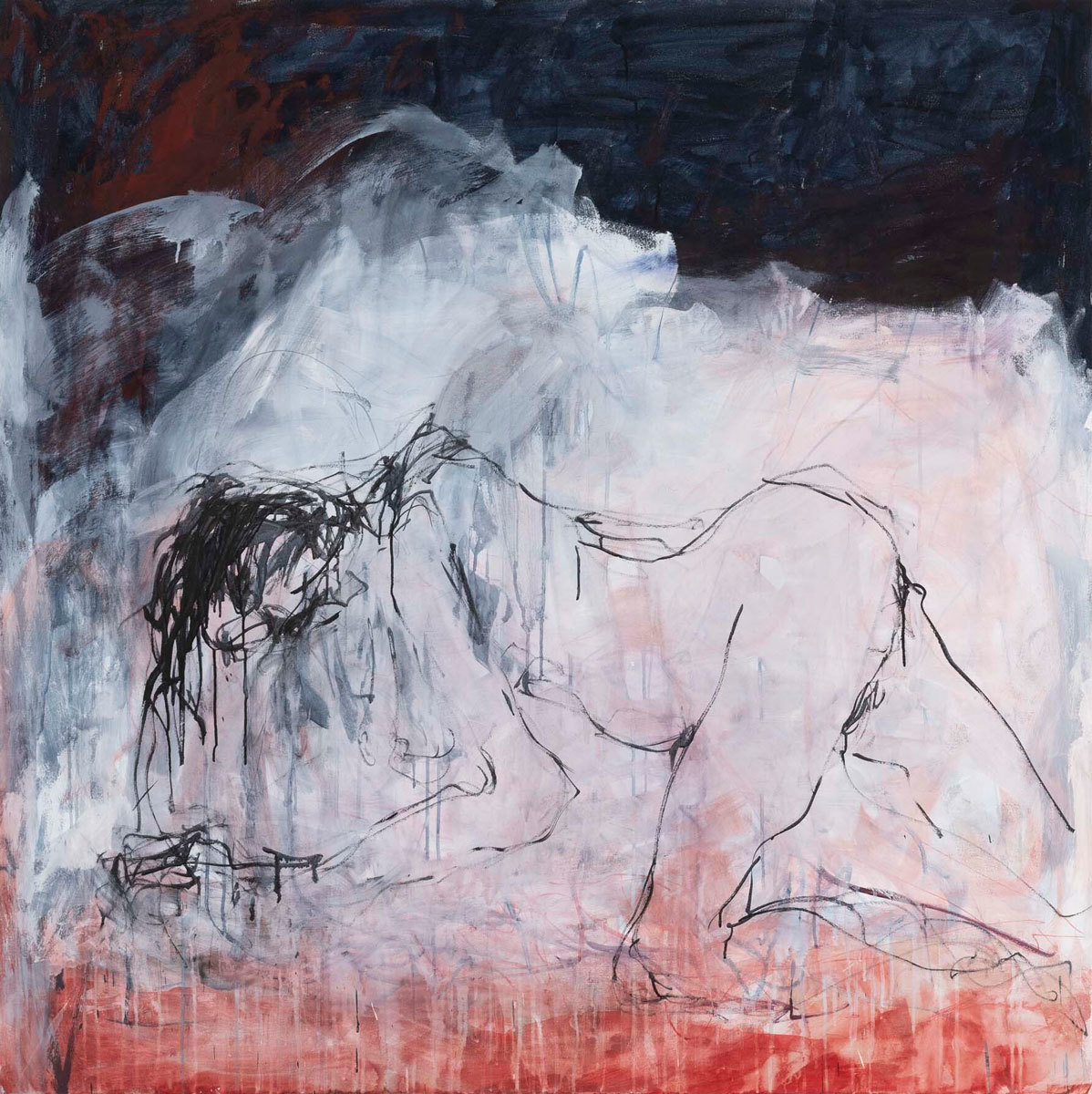 Tracey Emin, You Kept it Coming, 2019, acrylic on canvas, 152.3 x 152.3 x 3.5 cm.
The artist & Xavier Hufkens, Brussels © Tracey Emin. All rights reserved, DACS 2020.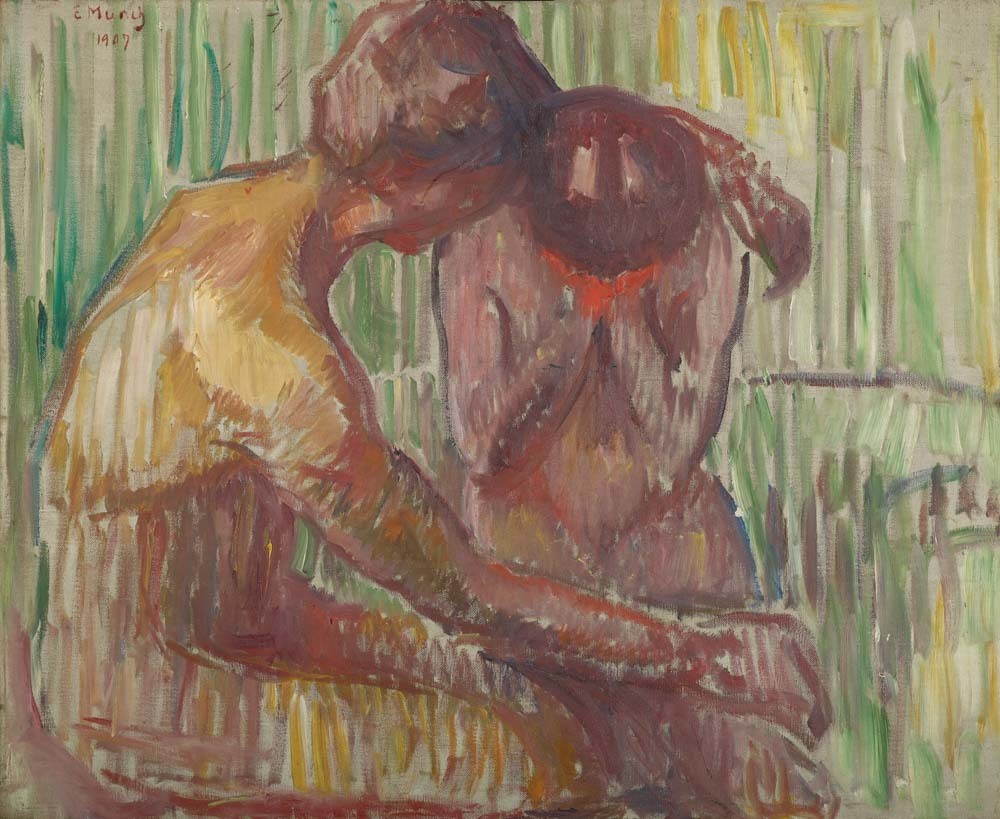 Edvard Munch, Consolation, 1907, oil on canvas, 89.5 x 108.5 cm, Munchmuseet.
It's a deeply personal, emotionally raw exhibition proving that great art can be made even after the most painful experiences and in the darkest periods. In Emin's words, "it's about rooms full of true emotion. It's not about something which is just pretty, that you can take away. It's about something that you feel."
Bonus tip: to find out more about the exhibition, BBC Two released the 39-minute documentary Emin/Munch: Between the Clock and the Bed, which will be available to watch until November 2021.
Titled after Munch's last self-portrait, the documentary takes us on a journey across Northern Europe, from London to Oslo to Åsgårdstrand to Margate. It's a visual narrative accompanied by Emin's voice along with those of art historians and curators in Norway, who reflect on Munch's life and highlight the affinities between the two artists.
Article originally published on Art Nomade Milan News, on March 11, 2021.
This article was amended on April 5, 2021 to update the show's new closing date.