You know that feeling of regret that invades you for not being able to visit a certain exhibition because you think you have missed your chance? Thankfully, in the current pandemic era, museums and galleries are beginning to make lots of material from their past exhibitions available online for everyone who either missed them or simply wants to explore them once more.
With the art world opening up again, it is easy to begin exploring as many IRL exhibitions as possible. However, the pandemic has taught us to stop, observe, and reflect, taking a break from the fast-paced life we had been so accustomed to up until the COVID-19 outbreak. For this reason, I am taking you back a couple of months to (re)visit Daniel Arsham's solo show Time Dilation at Galerie Perrotin NYC.
On display for five weeks – from January 16th until February 20th 2021 – the exhibition was spread across the New York gallery's three floors. Visitors, either familiar or not with Arsham's practice, could notice his multidisciplinary approach encompassing fine art, sculpture, architecture, and film, which results in the creation of in-between spaces and future relics of the present. In addition to the objects cast in geological materials he is best known for, Arsham presented a new series of paintings, bronze sculptures, and works in translucent coloured resin.
Two concurrent bodies of work coexisted in this space: sculptures from antiquity (Greek and Roman) and contemporary creatures (Pokémon). The figures and characters from these two different cultural universes are characterised by his signature decay, a technique employing crystals that creates confusion in the viewer because they don't know if the works are falling apart or forming together.
On the first floor, an eroded Apollo Belvedere and a large-scale Charmander were standing just a few metres apart; two objects from clearly different periods made in the same material that become, in a way, equalised. By presenting mythical gods with magical powers from 500 BC–200 AD and the 20th century respectively, the show complicates our understanding of these objects because, in the artist's words, "we don't quite know when we are in time."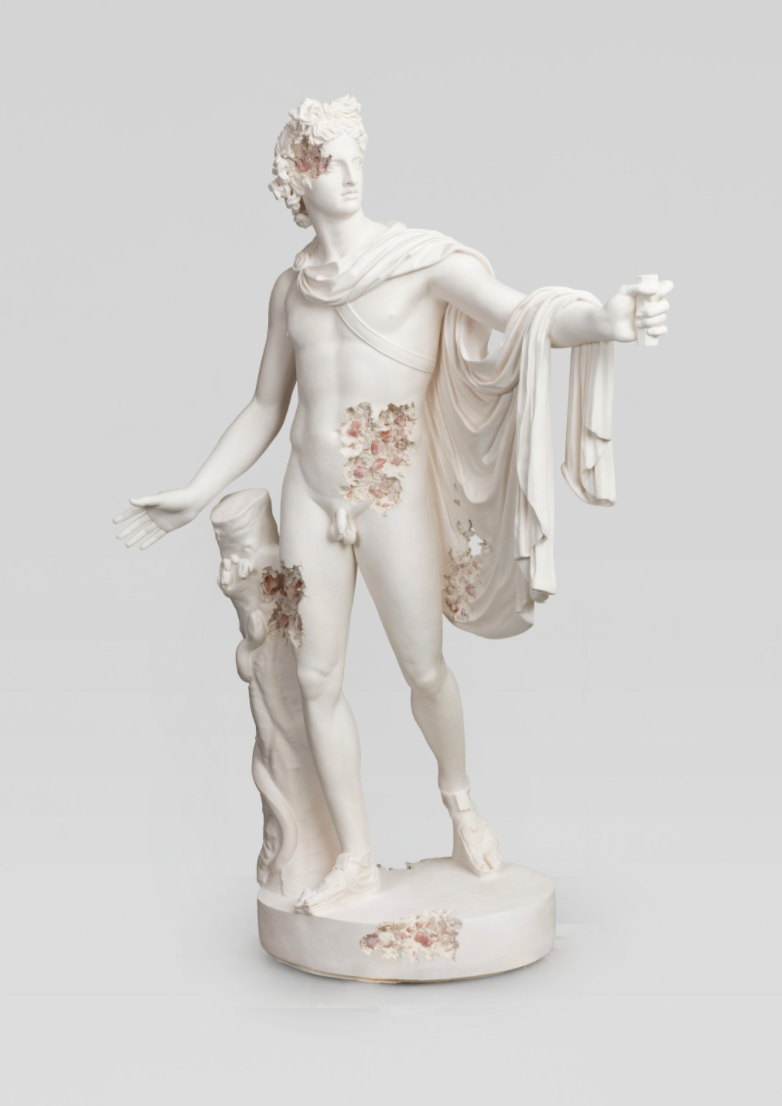 Daniel Arsham, Rose Quartz Eroded Apollo Belvedere, 2020
Rose quartz, quartz, hydrostone
234 × 162 × 110 cm | 92 1/8 × 63 3/4 × 43 5/16 inch
Photo: © Claire Dorn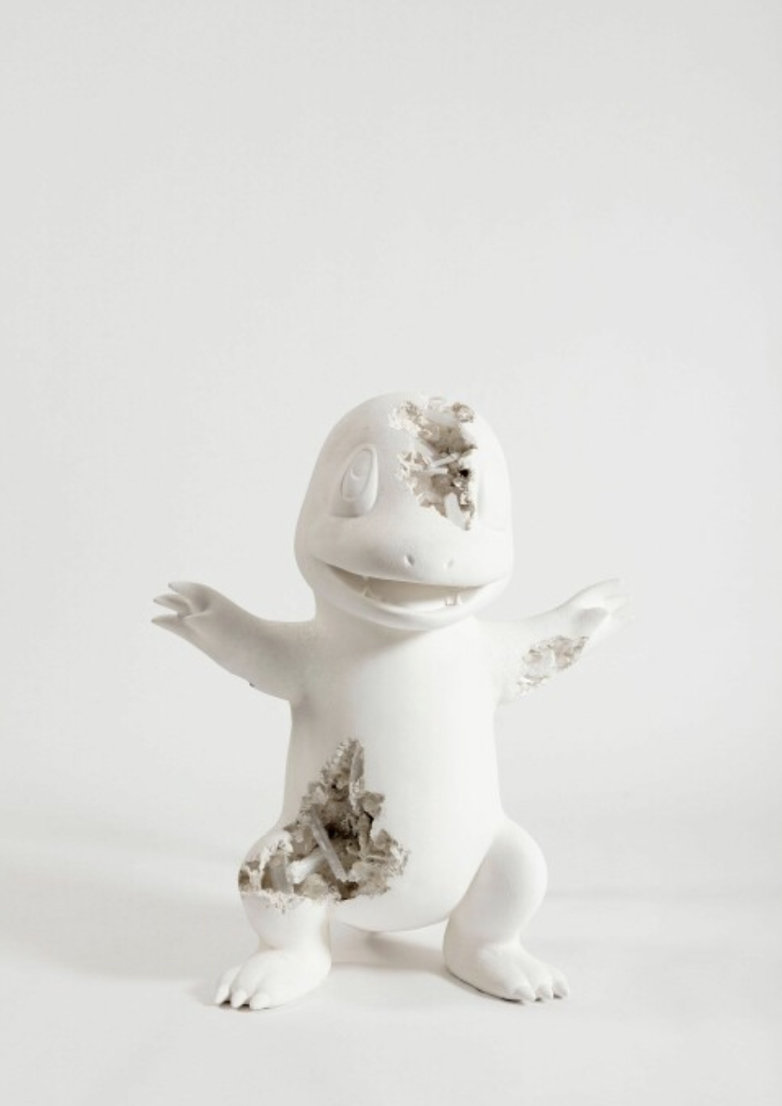 Daniel Arsham, Quartz Crystallized Large Charmander, 2019 – 2020
Quartz, selenite, hydrostone
127 × 104.1 × 104.1 cm | 50 × 41 × 41 inch
© Galerie Perrotin
Social distancing rendered it impossible for Arsham to work in the studio with a team of assistants, so 2020 marked a return to the canvas – he, in fact, was trained as a painter. By looking at this new series, his main inspiration can be traced back to German Romanticism, particularly the work of Caspar David Friedrich. For instance in Cave of Rome Deified (2020), the show's largest painting, we are transported inside a cavern where Pikachu, Mewtwo and an anonymous figure (maybe a Pokémon trainer?) are standing in the foreground with their backs to us. In the background, a monumental bust depicting the city of Rome, the legs of the Venus Italica, and the Venus of Arles seem to inhabit a sort of sci-fi setting, also suggested by the sepia tint tonality. This sublime landscape appears as an architectural fantasy in the style of Italian capriccio painting, where sculpture and architecture from different eras and geographical locations are combined into one image.
Through these two- and three-dimensional works, time collapses; past, present, and future become one, leaving us wondering what year this might be.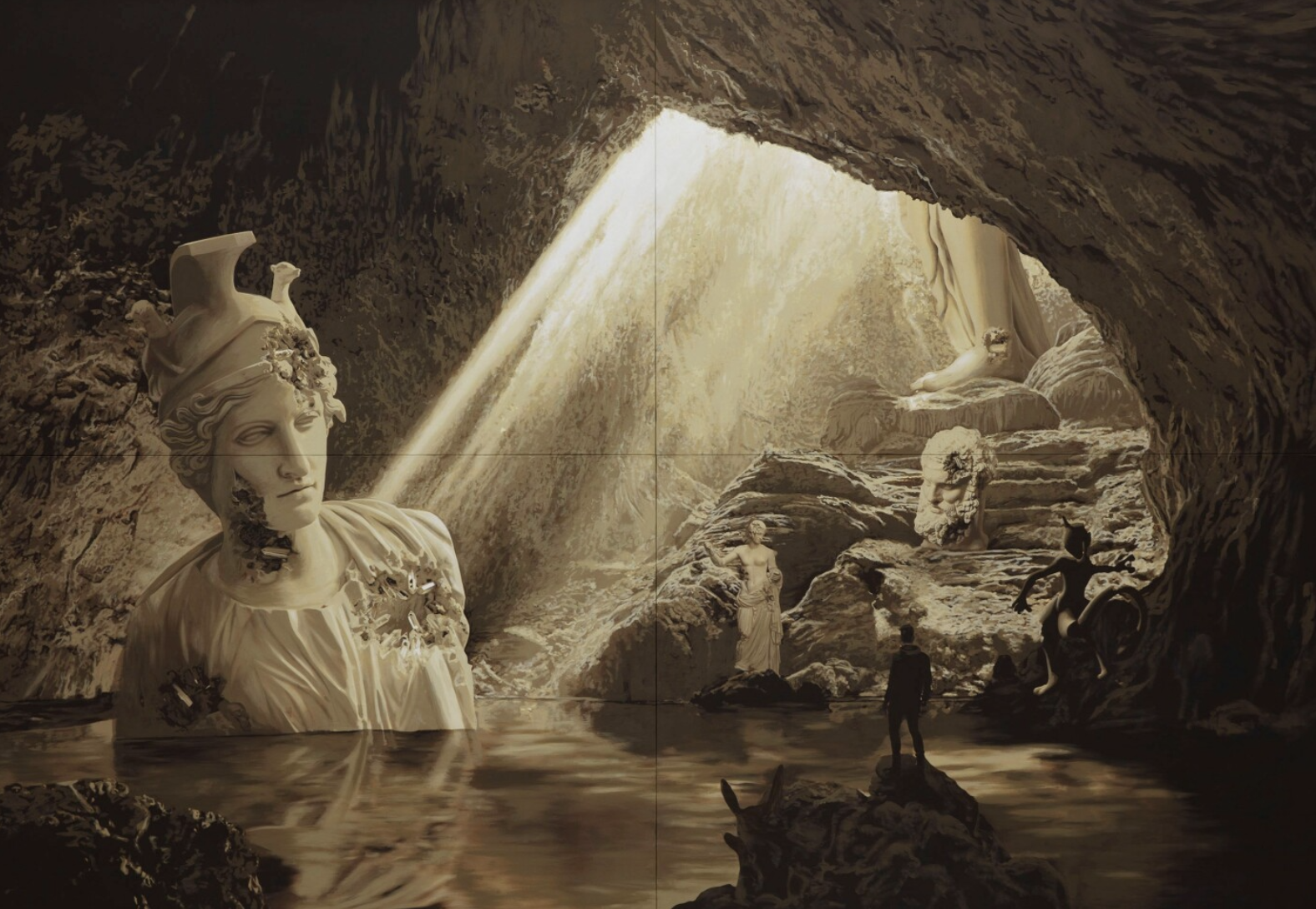 Daniel Arsham, Cave of Rome Deified, 2020
Acrylic on canvas, multiple panels
320 × 457.2 × 7.6 cm | 126 × 180 × 3 inch
4 panels, each: 160 × 228.6 cm | 63 × 90 inch
Photo: © Guillaume Ziccarelli
Bonus tip: If you would like a detailed explanation of each work, I suggest taking a 25-minute virtual walkthrough of the exhibition with the artist himself or explore the show in your own time through Galerie Perrotin's 3D space.
Article originally published on Art Nomade Milan News, on April 27, 2021.