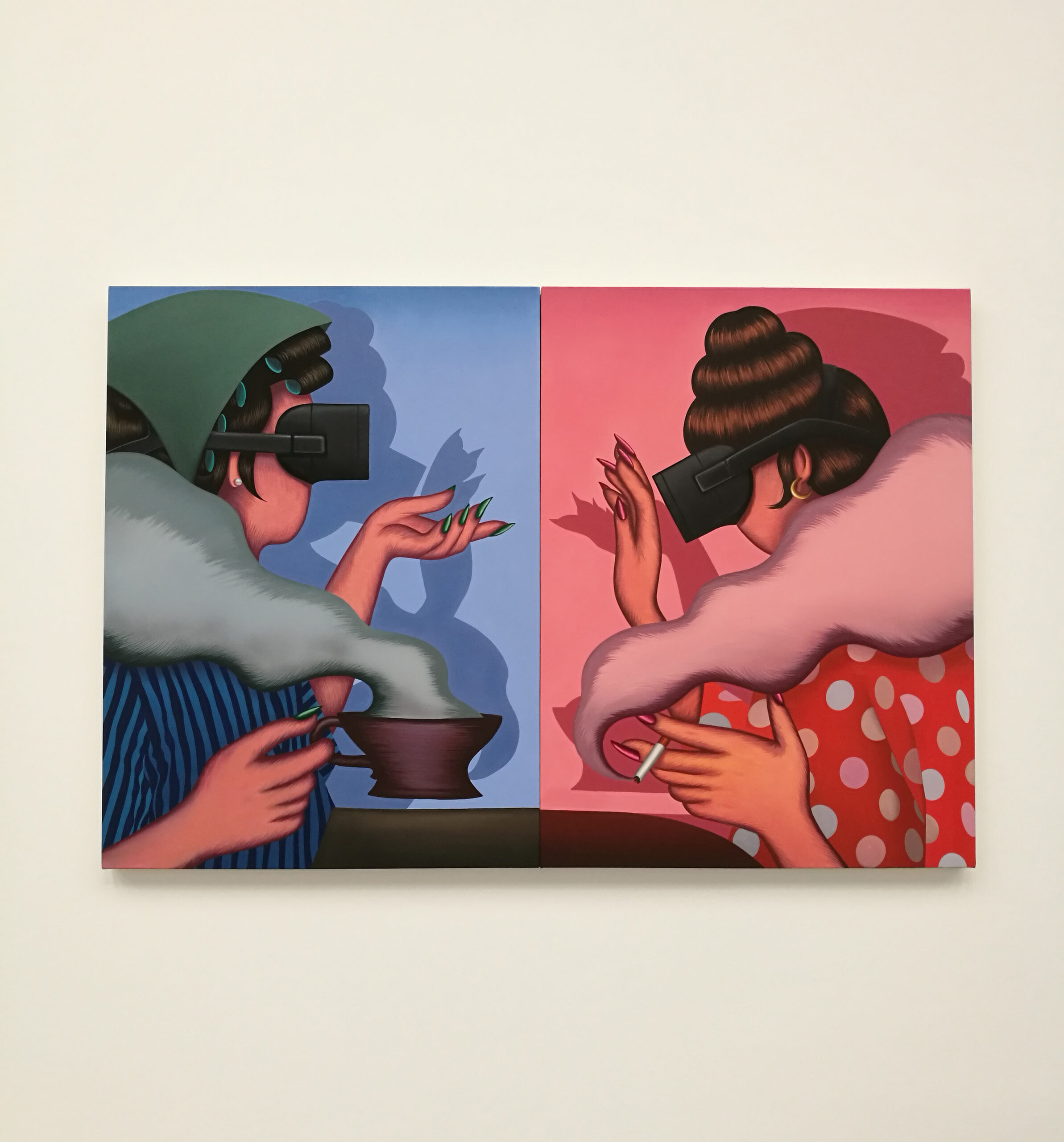 Julie Curtiss, States of Mind, 2021. © Julie Curtiss. Photo © Cristina Ricci.
Julie Curtiss has finally made her artistic debut in the UK with "Monads and Dyads" at White Cube Mason's Yard. This is the Parisian-born, New York-based artist's first exhibition in London, where she presents 29 artworks across the gallery's two floors including new paintings, sculptures, and gouaches on paper. As you enter, Curtiss' interest in exploring the absurdities of everyday life is immediately evoked by a series of disparate vignettes occupied by faceless subjects. In line with the Surrealist practice of rendering the familiar strange, her figurative images place characters in bizarre scenarios, painted in unexpected brushstrokes. Upon closer look, it's revealed that hair is the common denominator throughout her works: hair appears not only on the back of the heads but on skin, shoes, shirts, grass, animals, mugs, smoke, and food. Curtiss emphasizes the irrational notion that hair on the head is considered beautiful, whereas when found on the body—living or inanimate—it is repulsive.
Curtiss' visual language draws influences from 18th and 19th century French painting, the 1960s era Chicago Imagists—particularly painter Christina Ramberg—and pop imagery such as illustration and manga comics. The uncanny and the mundane coexist within her compositions, with Hitchcock-esque female heroines deliberately cropped and framed in a cinematic eye, evoking films like Psycho and Vertigo.
All these elements are fused with Carl Jung's thinking in both Vesica (2021) and States of Mind (2021), two examples where the title of the exhibition notably comes into play. In mathematics and philosophy, the monad symbolizes the individual and is represented by the circle, whereas the dyad is a doubling and suggests opposition. Vesica (2021) depicts binoculars-holding twins in two tondo canvases that seem to be merging into one; could this be a surreal coupling between a monad and a dyad? In States of Mind (2021), the diptych displays a disconcerting temporal contradiction between two women's 1950s hairstyles and attire, and the virtual reality headsets they look through.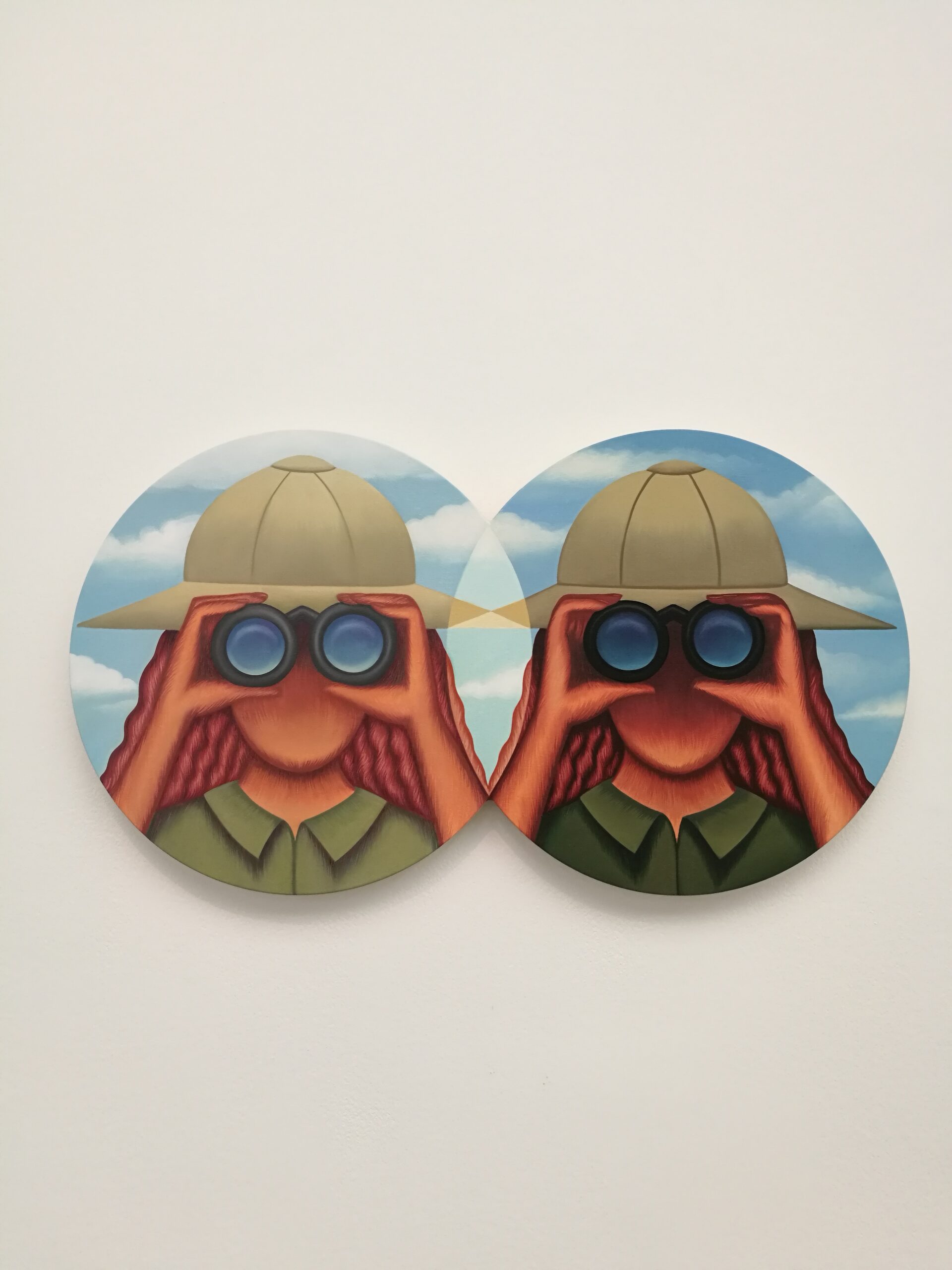 Julie Curtiss, Vesica, 2021. © Julie Curtiss. Photo © Cristina Ricci.
Hung on a wall all to itself, Le Futur (2021) can be regarded as the highlight of the show. The circular canvas is a contemporary take on Georges Seurat's A Sunday on La Grande Jatte (1884-86) and Bathers at Asnières (1884). At first glance, it might seem like the contemporary New York City counterpart to Seurat's Parisian scenes, with men and women relaxing in the park. Yet, Curtiss' piece has an eerie atmosphere. Its inhabitants are enigmatic: half of them dressed while the other half are naked, wearing only accessories, such as a lone earring or watch. One far-off figure almost blends in with the river, a shadow within the otherwise colorful ensemble. In the background, clustered buildings indicate the divide between nature and the urban, and a longing for the freedom to return outdoors after more than a year of social isolation.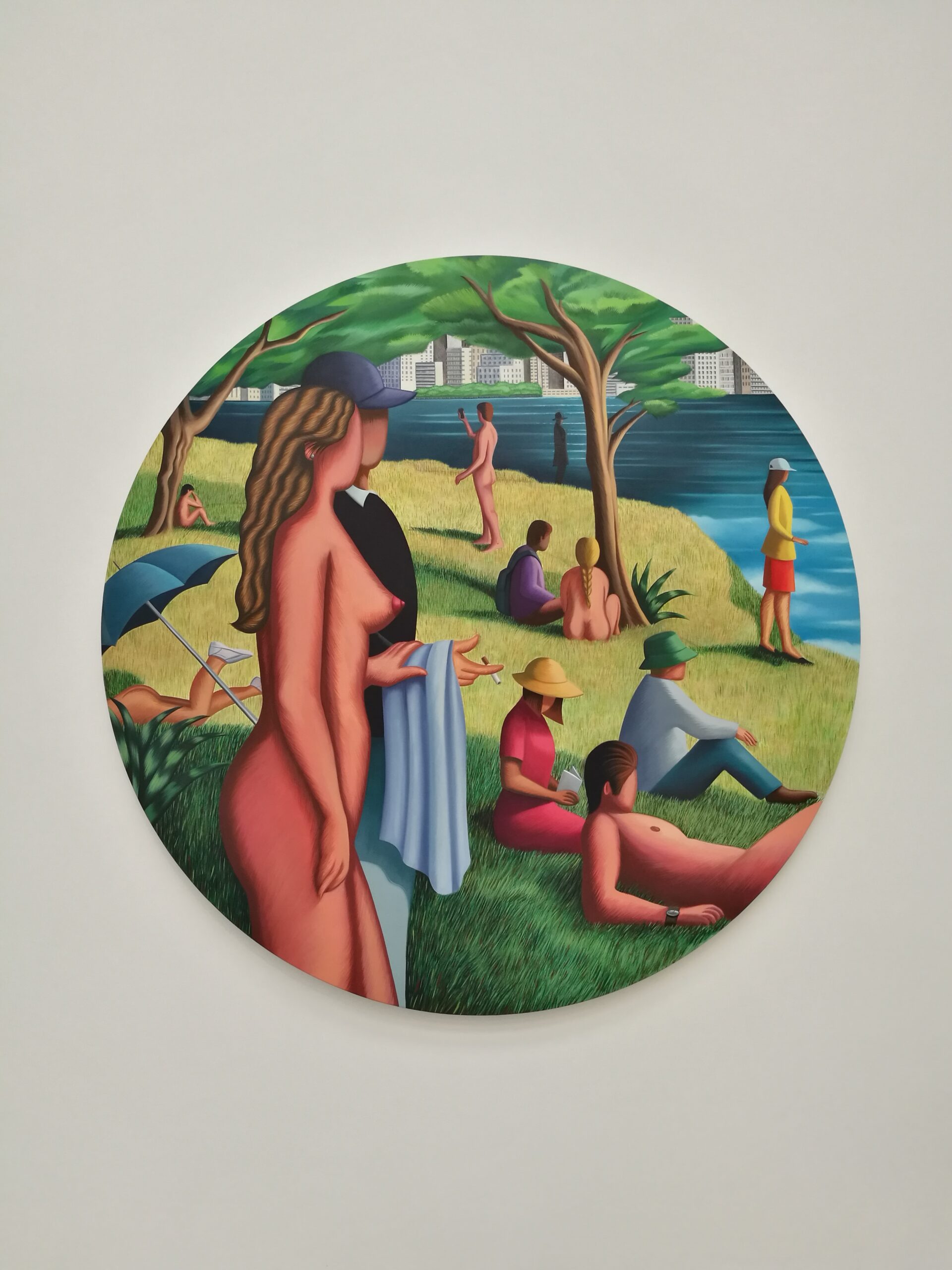 Julie Curtiss, Le Futur, 2021. © Julie Curtiss. Photo © Cristina Ricci.
On the gallery's lower ground floor, animals and food make their two- and three-dimensional appearances. Here, hairy textures characterize the flesh of pigs, ducks, and turkeys across the walls, while sculptures atop three raised plinths are grotesque yet humorous. An upside-down straw hat is filled with spaghetti, carefully arranged in the shape of a woman's head.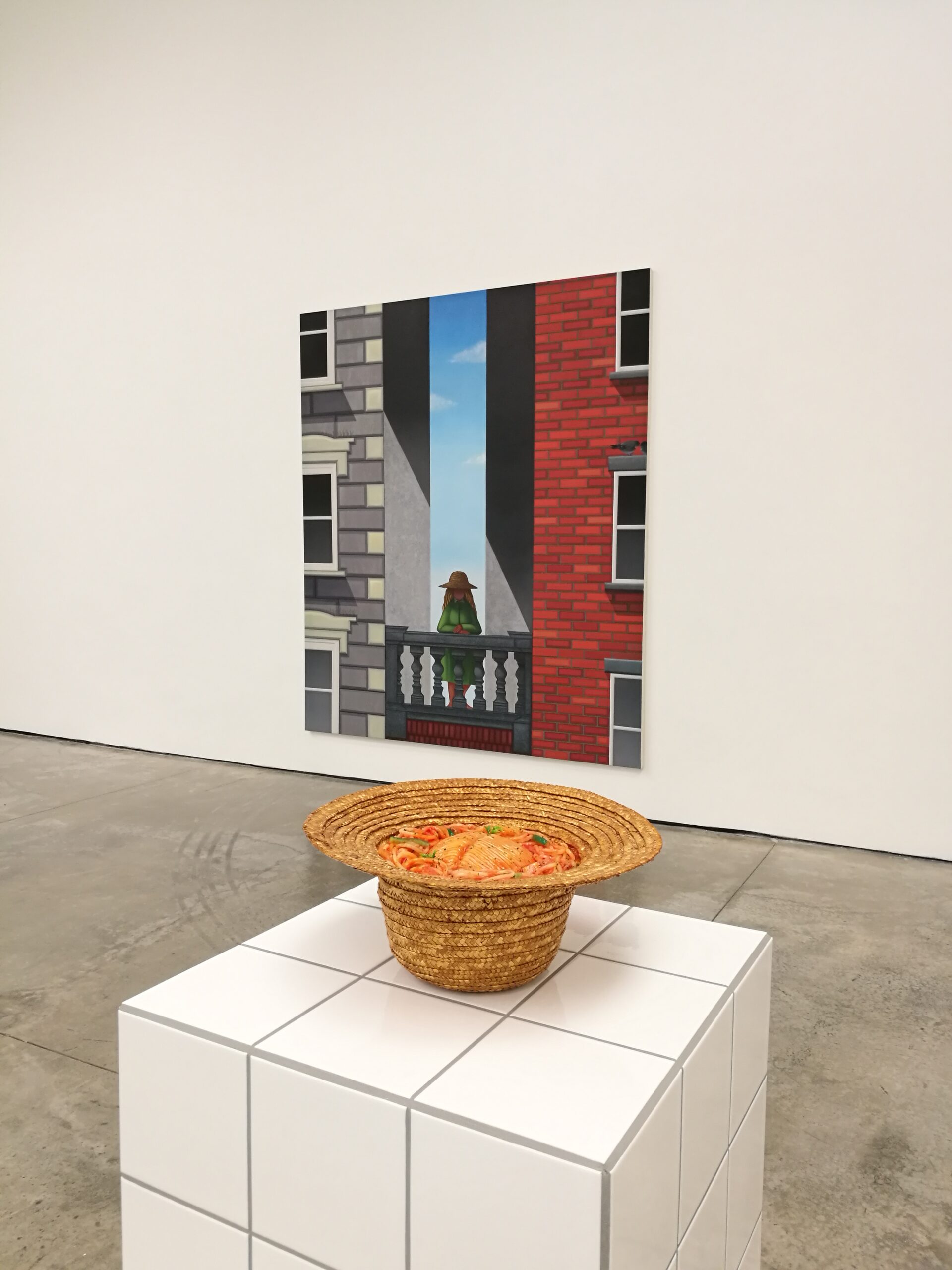 Julie Curtiss, Maze Meal, 2019 and Interstice, 2020 (behind). © Julie Curtiss. Photo © Cristina Ricci.
Curtiss' works suggest stories that the viewer is tasked with narrating by following the artist's playful twists and turns with familiarity. At "Monads and Dyads," things aren't what they seem. If you want a show that both surprises and gives you chills, Curtiss' solo exhibition is certainly not to be missed.
Article originally published on Artillery Magazine on 8 June 2021.